Month:
August 2015
Bismillah
I've been nominated for the first time for this award. I am thankful to Papatia for nominating me. I am honored. Drum roll please….This award gives credit to deserving women across the globe for their efforts to bring solidarity amongst women amongst other things.
The rules for taking part:
1.Thank the blogger who nominated you, linking back to their site. ✓
2. Put the Award logo on your blog.✓
3. Answer the ten questions sent to you.✓
4. Make up ten new questions for your nominees to answer.✓
5. Nominate five blogs.✓
I nominate the sisters below with no particular attention to the order I listed them:
My questions to them now:
1. When you read a book, what determines whether you will write about it or not?
2. How frequent do you post blogs?
3. Is goal setting important to you?
4. Name three things you do each day to move you towards your goals?
5. If you participate in professional development, how often do you participate?
6. What about personal development, which do you prefer, listening to books and tapes or reading? Why?
7. If there was one thing you wanted the public to know about you, what would it be?
8. If you have children, do you encourage them to look outside the box? If you do not have children and you plan on having children, how will you prepare them for adversity in life?
– What inspired you to blog?
I've wanted to blog for a while but didn't know what to blog about. When I wrote my books, my friend Jennifer was telling me about how she blogs and that I should blog also. When I started it, I realized it is something worth doing. I appreciate the connections I've made since I started blogging.
– How do you choose your topics?
Some of my topics are from my books. Others are from things I've read on the web or heard on the radio.
-Are you a morning person?
Yes, I'm a morning person. But sometimes I find myself staying up late for various reasons.
– Are you married or single?
I'm married.
– Any children if married? If single, how many you plan on having?
I have four children and two grandchildren.
– What makes you happy?
Leaving it to Allah (SWT) and knowing that He is in control makes me happy. Also, being around my family. One thing that recently makes me happy is people reading my book and telling me they enjoy the stories. It is always frightening when someone has to read your book because you don't know what their response will be.
– What kind of food do you eat?
I eat a variety of foods. I like vegetables, fish, chicken, rice, potatoes, spinach, broccoli. I like Italian, Jamaican, Chinese, different types of Spanish & Hispanic foods as well as Indian food.
– Do you love nature?
I thought I didn't, however, after looking at many of the photos that I take, most of them are of nature. So, yes, I do love nature.
– What qualities do/did you look in a man?
I look for a man who loves Allah (SWT) and realizes he has to answer to Him. I also like a kind man who has a sense of humor. Also, he can't be easily angered and must not be threatened by my knowledge and thirst for additional knowledge.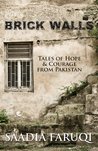 Brick Walls: Tales of Hope & Courage from Pakistan by Saadia Faruqi
My rating: 5 of 5 stars
Saadia did a great job weaving stories from different perspectives within Pakistan. From the less fortunate to those most fortunate. She helped me open my eyes that although one lives in a Muslim country, there are still trials and tribulations one may have regarding religion and family. I love how she had one item that was an important piece throughout each short story. I highly recommend this story for all.
Change of Shoes by Papatia Feauxzar
My rating: 5 of 5 stars
Wow! That's the first thing that comes to mind when thinking back to this book. Papatia truly makes one rethink how one classifies or treats other who are different. She addressed an issue that is very difficult and often dismissed within the Muslim community. What was it? You may ask. Homosexuality and genderism. I recommend this book for all to read regardless of ethnicity or religion.
Freedom Fighter : A Novelette by Papatia Feauxzar
My rating: 4 of 5 stars
This story intrigued me because oftentimes when women think of getting married, they think it will be the best day of their lives. However, when Sheyma found out she was getting married, she felt as if her life and freedom were gone forever. The story Papatia wove was an interesting one from Africa to North America. It is a very good read.
There was one sentence where the description of what the character was doing didn't fit well with her natural description. When it was written, "My knuckles became white as my fingers gripped my hips." This story describes Sheyma as a brown woman. No matter how hard one grips their hips, brown knuckles do not become white.
However, overall it was a great read and great story. I recommend it for anyone interested in how a woman may feel when she is forced to marry someone she neither knows or loves.
Here's a blog worth following.
Native-born American Muslims
Euro-American Muslim writer Sahar Abdulaziz is an eclectic author with works in non-fiction and fiction.  Abdulaziz addresses a variety of social issues and does not shy away from exploring the most complex and often unsettling aspects of being human.
Abdulaziz's debut novel, As One Door Closes, is gaining a lot of attention from readers.  The novel follows a family whose tendrils of lies begin to unravel after the death of their dysfunctional patriarch. As One Door Closes was recently added to Amazon's Hot New Releases.  Abdulaziz's body of writing includes:
The works of American Muslim authors represent important artifacts of the emerging Islamic-American cultural construct.  The writings of American Muslims serve as potential venues to better acquaint the…
View original post 27 more words