Thriller
Nasheed Jackson's Her Justice spins a riveting story about love, guilt, lust, faith, and murder. When a man works long and hard hours for his family, sometimes the wife forgets and let negative thoughts enter her mind. He reminds the reader to be careful about suspicion because the one you're the most suspicious of is actually on your side while the one you trust the most will betray you worse than you can ever imagine.
With this being Nasheed's inaugural novel, I see a successful future for him. If you haven't read Her Justice yet, purchase your book as soon as possible. You will not want to put it down and you'll finish reading it in one day.
Visit and like Nasheed Jaxson's Facebook Page
Daria Van is an African-American Muslimah (Muslim Woman). She is a teacher with a passion for including all ethnicities when teaching history. Although she is an introvert, when something is important to her, she has no problem speaking her mind. Sometimes her anger and passion puts her in difficult situations. Read how she deals with her husband and principal in "The Shoulders On Which I Stand". Purchase the book at Authork Karimah G Amazon Author Page or enter for a free giveaway from Good Reads.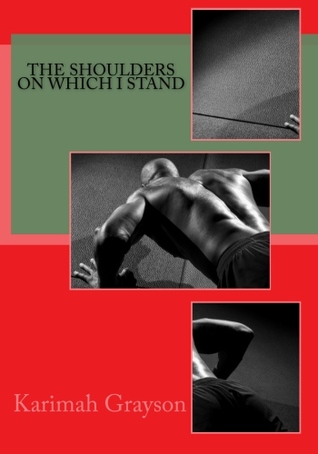 #TheShouldersOnWhichIStand #MuslimFiction #AuthorKarimahG
"The hell it isn't. I feel as if you all are trying to accuse me of inciting a riot. I am not going to stand here and be accused without proper representation."
Mr. Bruce dialed the receptionist and told her to get Mr. Bingham to come to his office. Daria was looking at the three of them shaking her head. As long as I say let's have black t-shirts for Black History Month they are okay with me. However, when I start really teaching the students I get pulled out of my class. My grandmother always taught me, "Don't trust a white person as far as you can throw them."
Mr. Bingham walked in and saw no smile on anyone's face.
"Mr. Bruce, you called for me?"
"Yes, Ms. Van requested representation. We told her that it wasn't necessary but she insisted."
"Okay, that's what I'm here for. How may I help you Ms. Van."
"I've been teaching my students US History while incorporating African-Americans within the lesson. These three are telling me that I have to reserve teaching anything about African-Americans until February."
"The lessons that you're teaching, do they align with the standards?"
"Yes, they do. I would not do anything to jeopardize the students' success in school as well as my future as an educator. Also, instead of Mr. Bruce sticking his head in my classroom and ordering me to his classroom, he could have called me or came to me with an air of professionalism and requested me to come to his office. He just cut the respect I had from my students down to nothing."
"Is this what happened Mr. Bruce?"
"Is this what happened? Are you serious? I thought you were here to represent me."
"You white folk really stick together. I didn't do anything wrong and I'm following the curriculum and standards. If you have any additional problems with me, please do not use my lessons, just state what the issues are," Daria said becoming more and more frustrated as she sat in the office.
In eleven days the release date for my debut novel arrives. Check out the first chapter and tell me what you think. Oh yeah, accompanying the first chapter is a glossary of terms so you can have a more enjoyable time reading. Let me know what you think.
GLOSSARY OF TERMS
Allah – The One God
As salaamu alaikum – peace be upon you
Wa laikum mus salaam – and upon you be peace
Ummi – my mother
Alhamdulillah – all praises belong to Allah
Salatul 'Istikhara – a prayer made when making important decisions in one's life
Bismillahir Rahmannir Raheem – In the name of Allah the Most Gracious, the Most Merciful
Allah subhana wa ta'ala – The One God glorified and exalted
Surah – verse of the Qur'an
Qur'an – holy scripture in Islam
SubhanAllah – Glory to Allah
In shaa Allah – if it's the will of Allah
Inna illahi wa inna ilaihi raji'un – Verily from Allah we come and to Him we return
Ya Allah – Oh Allah
Khula – divorce in which the woman seeks to end the marriage
du'as – supplications
Talaq – divorce by the husband
Maa shaa Allah – The will of Allah
Astaghfirullah Rabbi wa Atuubu Ilayh – Forgive me Allah, my Lord and accept my repentance.
Janazah – funeral prayer
Dhikr – remembrance
ONE
Rushing from the third staff meeting of the week, Daria darted through the groups of students. As she approached the classroom door, her students gathered around her asking many questions. She turned around and pointed for the students to line up against the wall. They knew her procedure they needed to enter her classroom in an orderly fashion.
After the students entered the classroom, she turned on the television tuned into the morning announcements and recited the Pledge of Allegiance. Although she didn't agree with the pledge, she encouraged the students to stand and be respectful. As soon as the morning announcements ended, Daria turned towards the students and wondered why so many hands were up.
"Yes Travante?"
"Miss, when are we going to learn African-American History again? Do we have to wait for Black History month? I want to learn about Martin Luther King, Rosa Parks, and Harriett Tubman?" Travante said for the third time this week.
It never surprised Daria each time the students asked about learning African-American History. They always wanted to learn about the holy trinity of Africa-American History.
"First of all, let's get this straight," Daria said folding her arms across her chest. "African-Americans are part of the woven fiber of this country. Therefore, when I teach you, it will not just include Martin Luther King, Jr., Rosa Parks, and Harriett Tubman."
"But Miss, they're the reason we are free and can ride the bus," Charlene said looking Daria straight in the eyes.
"Let's think about that statement," Daria said counting to ten in her head. Year after year she has different students who ask the same question. She's not frustrated with the students; the frustrating part is that these students are now in the eleventh grade and the only African-Americans they can name are the holy trinity.
"But Miss," Travante began, "I remember being taught that if it wasn't for Martin Luther King, Jr. none of us would be free."
"Before we talk about Dr. Martin Luther King, Jr., who can tell me about El Hajj Malik El Shabazz?" Daria said
"Who?" The class said in unison looking from one to the other.
"You may have heard of him as Malcolm X," Daria said with a chuckle.
"Oh, him!" June said as she raised her hand.
"He was a slave, right?"
"A slave, why do you say he was a slave June?" Daria said not understanding the response.
"Because his last name is X and that was to get rid of his slave name," June said raising her right eyebrow.
Daria laughed aloud when she heard this. She was surprised that June knew about slave names. However, it bothered her that out of all of her students only one heard of him and her information is incorrect.
"June, excellent use of context clues; now I understand why you thought he was a slave. You are correct; the 'X' was used to replace the slave name. But that doesn't mean he was a slave. Let me see if I can help you understand. Your last name is Jones, right June?"
"Yes."
"Okay, the Jones last name came from the slave master. Generally you do not see people from the different African countries with the last name of Jones."
"But Miss," June said, "my parents aren't slaves."
"Correct, they aren't because slavery ended for most slaves in 1865. However, the Jones surname came from the slave masters of your ancestors."
"Surname? Miss, why do you use such hard words? What is a surname?"
"Surname is another word for last name. Remember, I told you I'm here to educate you. This education includes increasing your vocabulary. Now back to Malcolm X. Before he was Malcolm X, he was Malcolm Little. That being said, does anyone else know anything about him?"
"Wait Miss, what about the name El Hajj Malik El Sh…or whatever you said," Jose said.
"I'm glad you picked up on that Jose. Near the end of his life, he accepted Islam and changed his name to Malik El-Shabazz. After performing the hajj, which is the pilgrimage to Mecca that all Muslims must make at least once in their lifetime, the moniker El Hajj was added to his name."
"Here she goes again with those big words," Travante said louder than necessary.
"What is a moniker Miss?" June said enthralled with the conversation.
"I'm glad you asked," Daria said happy to see her students picking up on the unfamiliar words. "A moniker is a title one selects for oneself."
"I remember hearing that he used to be a Muslim and he stopped," said Lincoln.
"Well, you're almost right. He was in the Nation of Islam; this is a Black Nationalist movement whose teachings went against many of the tenets of Al-Islam. As he studied and learned more about Al-Islam, he realized that what he was taught was not Al-Islam so he left the Nation of Islam and testified his faith as a follower of Al-Islam. Not long afterward, he made the pilgrimage to Hajj in Saudi Arabia."
"But Miss, what does he have to do with African American history?" Amelia piped in.
"Well, as Martin Luther King, Jr. and Rosa Parks encouraged non-violence, Malcolm X believed in self-defense 'By any means necessary'."
"I don't understand Miss, what does 'By any means necessary mean?" Zariah said holding her head to the side
"What it means Zariah is that instead of turning the other cheek, Malcolm X believed in defending himself. This is why he was as important as the other three you mentioned. But, I want you all to know that there are many people and organizations that were as relevant in American History."
"This is very interesting Miss, I didn't know anything you just told me. Why aren't we taught this in other classes?" LaTasha said.
That's a continuous question Daria had. Why indeed are students taught only about the holy trinity of African American History? Why isn't African American History included in the lessons in regular American History since there have been Africans here before the Mayflower and beyond?
"LaTasha, what a fantastic question, but as a character in the movie said, 'It doesn't matter, it's in the past.' We cannot focus on what you didn't learn. What we will do this school year is focus on what you will learn."
The students stood up and began applauding and cheering. In order not to have the administration come to her classroom, Daria quieted the students and made them sit back down.
"This school year we're going to learn American History and incorporate all of the people involved in the development of this great country of ours. Often we make the US as if it is a dichotomous society…"
Daria looked around and saw some students with the look of befuddlement while others raised their hands as soon as she said the word waiting for her to call on them.
"Yes Jean?"
"What is a dicho… Uh, dichotot…I don't know how to say it. But the word you just said."
"I'm so proud of you raising your hand and asking that question Jean. The word is dichotomous which means two specific groups of people. Now class, please repeat the word after me. Di cho to mous."
"Di cho to mous," they said in unison. Daria heard some students mispronounce the word.
"Okay, one more time. I didn't hear everyone and some of you are saying it incorrectly. Repeat after me, di cho to mous."
"Di cho to mous," they repeated again.
"Much better," Daria said. "What I mean is that the United States was never just black and white. There have been multiple ethnicities and races of people involved in the growth and development of this country."
"For example, you will learn about how the Chinese were important in the building of the railroads. This country has a rich history and we all are integral parts of the history."
"Miss, I like your class. Do we have any homework?" Antoine said as he looked at the clock.
"As always Antoine, the homework is written on the board. Make sure you write it down in your agenda. Well, class, the bell is about to ring. Make sure to gather all of your belongings and I will release you when the bell rings."
Riiinnnggg!
"Okay class, I will see you tomorrow. Have a wonderful evening."